New to Pickleball?  PoP is ready to jump start your game.

Beginner Boot Camp: Saturday mornings, 9AM -noon.  Learn pickleball from the very beginning including the rules, the swing mechanics for serve/return/dink/volley and the strategic thought process for succeeding at the game.  You will be lead by a PPR (Professional Pickleball Registry) qualified teacher, Lee Martin, State and National Senior Olympics Gold Medalist in the 4.0/65+ bracket who has taught over 600 newbees to the game in the past three years.  Dr. PoP (Professor of Pickleball) is a retired mechanical engineer who loves the game so much he built the Pavilion of Pickleball to promote the game in Knoxville.  Cost is $10 for members and $20 for non-members and paddles/balls are provided. To sign up, call the PoP desk at 865-249-7716.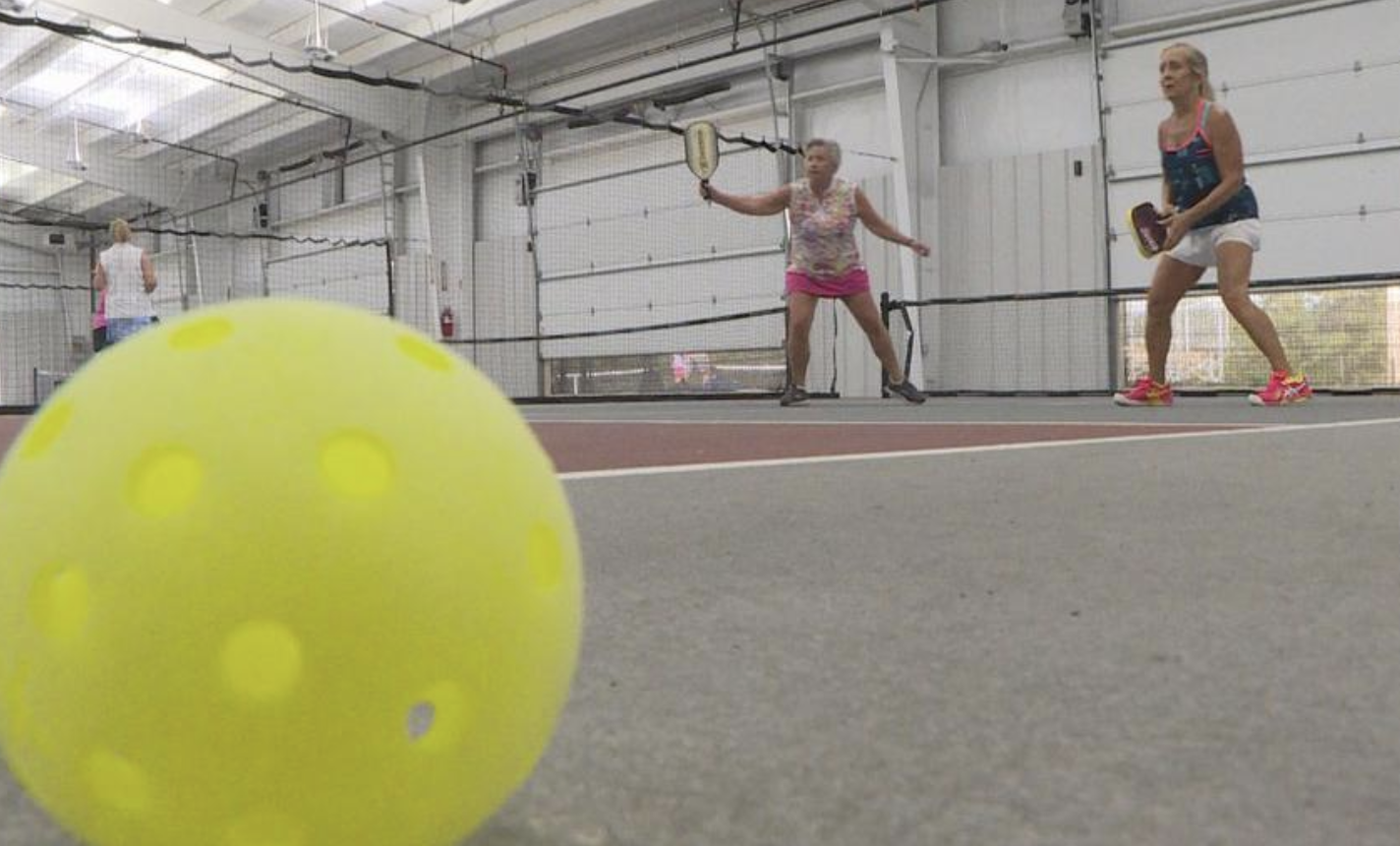 Outline of Course: Rule #1, Grip (the very beginning), the serve (rules, mechanics, routine, practice), the return of serve (mechanics, strategy), the dink (what is it, how do you do it, why do you do it, what is an unattackable ball), the Non Volley Zone (the kitchen, footwork, ball flight, rules), playing the Dink game, the Volley (how, when, why, an easy setup to practice at home), and let's play (how to score, how to position before the point begins). [It's a lot to cover in two hours, but you are playing the game the last hour. Most folks laugh a lot as they learn a new game from scratch!]
After the beginning boot camp, we have several ways to grow in the game: private lessons, pro plus 2 or 3 lessons, level-based drop-ins where you meet new friends, tournaments for all levels and for some really great causes, and now we are sponsoring the KPL (Knoxville Pickleball League) to encourage the game to expand in the community.  There is no limit to how good you can get as we actually have three nationally ranked professionals teaching and playing out of the PoP.  We have also hosted pros to do clinics at the PoP including Scott Moore (top US senior), Riley Newman (#2 professional ranking in the world in 2022) and Laura Fenton (5 time US Open winner and International Racquetball Champion).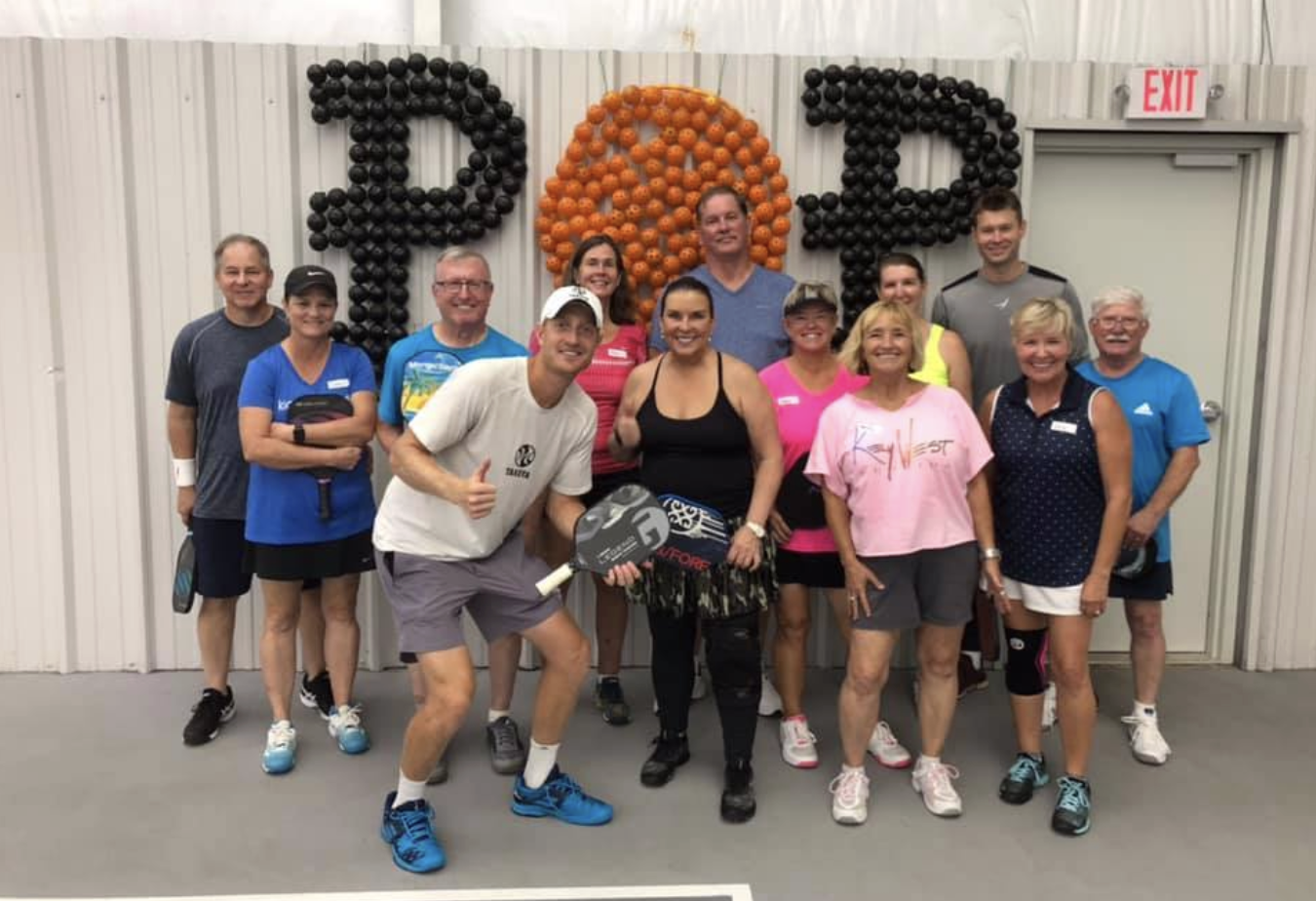 Riley Newman, World #2 ranked Pickleball player @ the PoP!
Why Pickleball?
You have a lot of options on how to spend your time, so why is pickleball the fastest growing sport in the US? From personal experience, I can tell you that I have never found a game that challenges me mentally, physically and relationally like pickleball. First physically – I'm not a gym rat or a road warrior, but I want to stay in some kind of shape as I age. Pickleball has been my ticket. I can easily lose 4 pounds of sweat in a 90 minute session putting in 6000+ steps and not even realizing that I am exercising except for the drenched clothes when I'm done. Lost 30 pounds the first year I opened the PoP (but lets face it I was there all the time getting it going! Mentally, the more I play pickleball and the better I get, I realize that this game is chess on a court. You are not hitting for the winner, you are thinking 3 shots out to set up the winner. You don't overpower, but you out-fox your competition.
Old can play and beat young, patient women can outlast banger males and everybody can improve the mental game over time. It's more than physical skill that determines the winner. Finally, the relational side of pickleball is great. I have a new set of friends that gather multiple times a week and we have time to share good competition, a few texted jokes and nail each other on court for a few laughs (its actually ok to hit the pickleball (a wiffleball) at your opponents to win a point, but it comes with a bit of risk too. Those that say it's a little court (no exercise) and its easy to master (learning curve is really fast at the beginning) have not played the sport more than a few times. Its not tennis on a little court or racquetball without walls – it's a strategy game in and of itself and the source of joy for an ever expanding following.